Lev Kia has been a family-owned and operated dealership since 1997, with a strong commitment to offering Kia fans unmatched customer service -- and that dedication helped us earn DealerRater.com's 2013 Kia Dealer of the Year award for Massachusetts. When you come to our Kia dealership in Framingham to look for a new car, to repair or maintain your current vehicle, or to search for parts, we want to earn your business and make sure you get the experience you deserve. From our impressive warranty and comfortable, modern dealership to our expert staff, we're prepared to go the extra mile to convince you to choose us for your automotive needs.
Learn more about what sets Lev Kia apart from the competition!
The Lev Kia Advantage
Lev Kia was named the DealerRater.com 2013 Kia Dealer of the Year for Massachusetts!


We offer a 10-Year/100,000-mile warranty, which gives Kia drivers peace of mind when they're on the road.


At Lev Kia, we offer a lounge with free WiFi where you can wait for your car, as well as a complimentary shuttle service that lets you make the most of your time.


Our state-of-the-art paint booth is compatible with all makes and models, meaning you can customize your car's look to your heart's content.


We have a full parts warehouse and factory-trained certified staff of Kia Master Technicians with years of experience servicing Kia cars.


Lev Kia is conveniently located right off Route 30 and the Mass Pike in Framingham, near Shopper's World and the Natick Mall. That makes us a quick drive from the Boston area or Worcester area
Recent Reviews
"I own a driving school and bought two 2017 Kia Souls in the last few months at Lev Kia in Framingham.  The entire car-buying process was fabulous.  They took care of everything,  I paid what I thought was fair, and the process was stress free.  Every person I talked to was professional and respectful.  When I wanted a second car,  I simply made a phone call, explained what I wanted, and picked up a beautiful car a few days later.  It couldn't have been any easier."
Overall: 5
Customer Service: 5 out of 5
Buying Process: 5 out of 5
Quality of Repair: 5 out of 5
Overall Facilities: 5 out of 5
Rating from Bernadette L., Walpole
September 28, 2017
Lev Kia In The Community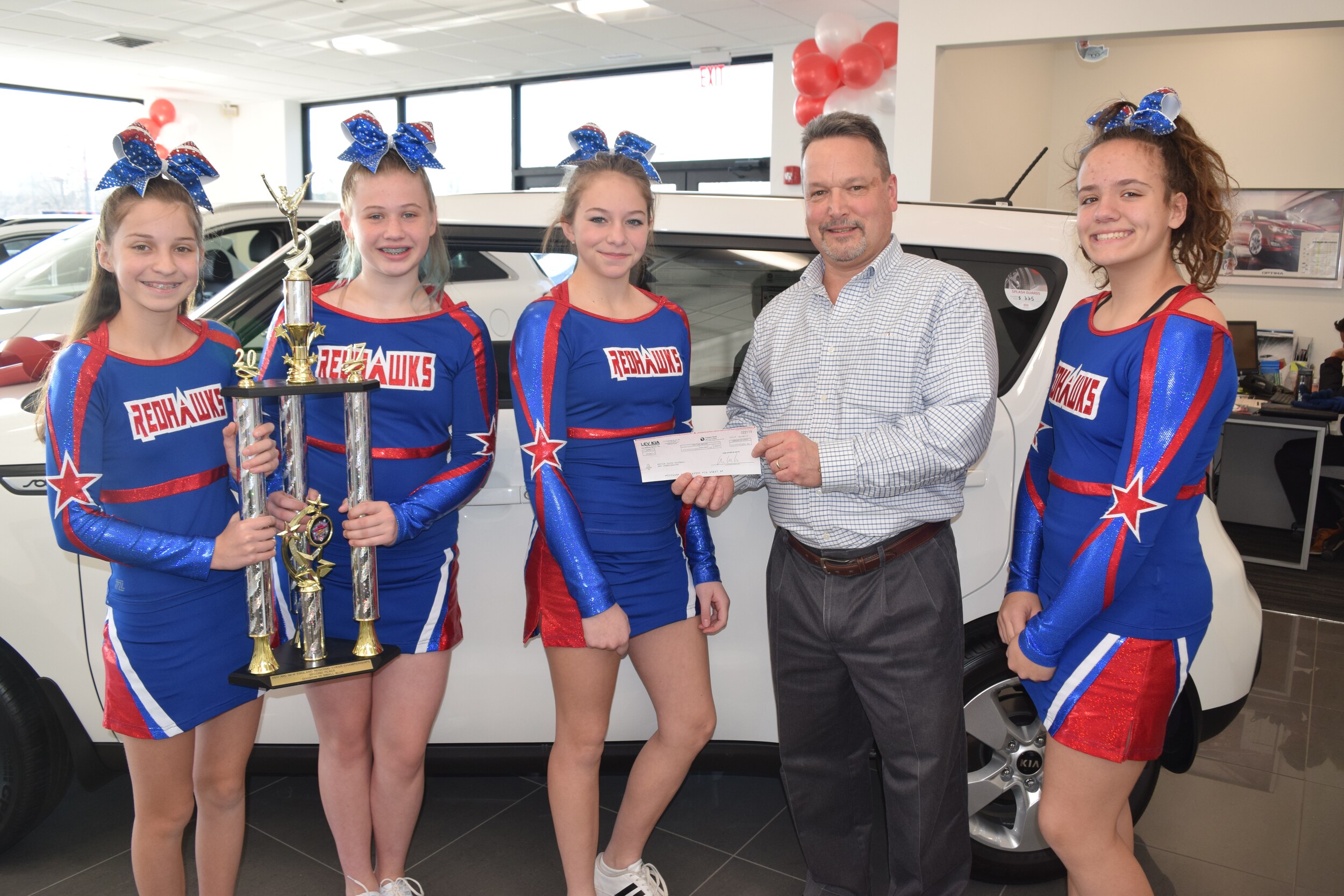 DEC 2017 - Lev Kia of Framingham sales manager Burt Lueth presents a check to the Natick 
Youth Football and Cheerleaders Association to help send the girls to a national competition in 
Florida earlier this month. The team placed 2nd nationally in its first-ever appearance in the 
competition. Smiling cheerleaders from the 14 Small Blue Division (7th and 8th graders) pictured 
with their state championship trophy are, from left, Jessie Pfahler, Abby Rish, Lily Staples and 
Gianna Tomassini, all of Natick.