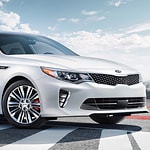 The Kia Optima offers an all new way to drive and get the most value from your car. Drivers love the Kia Optima in the midsize class because of its smart infotainment system, driver assistance features, and amazing fuel efficiency. So, what's it like to drive the latest Optima?

Quiet, Serene Cabin with Upscale Features

Everything is included in the base Kia Optima LX. The 8-inch touch screen LCD display can connect directly to your phones to display calls, texts, and app information. You can use voice commands to control just about everything while you drive, and there's an amazing six-speaker audio system to keep you jamming on the way to work or on a long road trip.
Safety Features You'll Love

?With blind spot monitoring, lane keep assist, driver attention warning, and adaptive cruise control, driver safety has become extremely important to Kia. The manufacturer added all kinds of new safety technology features to the base Optima.
Want to see the latest Optima in action? You can schedule a test drive at Lev Kia of Framingham, which is conveniently located in Framingham.